Whether you're contracting a logo designer, are designing yourself with Illustrator tutorials, or are using an online logo creator—great option if you were tragically born without a personality—if you follow the advice in this article your brand and logo will be more professional.
From 2004-2011 I designed hundreds of graphics and logos—see a few at 0:13 in my Marketing Director resume—and I learned the below wisdom after lots of study and lots of screwing up.
Mistake 1: Having only one logo version.
Many pro designers will complete one logo for you. But you need four versions.
multi-color "day" (white background)
multi-color "night" (black background)
single-color "day"
single-color "night"

Not bad eh? Designed it in my 2nd year.
Why you need four versions
Day, Night: Compare A vs B. The "INDOOR"s are actually different purples, so the logos look similar on light or dark backgrounds. Logos will often need to be tweaked to show equally well against light or dark backgrounds. This is why you need two versions.
Multi-Color, Single-Color: Now compare A vs C. Both are on white backgrounds but are different designs. See how the wing "ribs" are black in A and white in C? Suppose you're ordering baseball hats with your logo stitched on. They want a "single color" logo. Simply changing A to grayscale won't work. It's still multiple colors, as can be seen in the image below. You need a true single-color logo like C or D.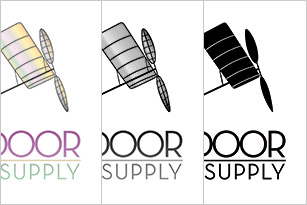 Formats and sizes you'll need
(4 versions x 1 size = 4 files) .ai or .eps—vector formats.  Your logo should be built in vector and it's the most important format. Vector means the logo lines are mathematical formulas, not pixels, and can therefore scale up as large as you want. You could place a vector logo up the side of a 10-storey building and it will still look sharp.
(4 versions x 3 sizes = 12 files) .jpg—raster format. Raster means the logo is built with pixels. It will be used for print and web. Ask for three sizes: high-resolution (5,000px), medium (1,000px), and small (300px).
(2 "day" versions x 1 size = 2 files) .png—another raster format, except it allows transparent background. Get versions A and C at 5,000px. You will want the transparent background when placing the logo against colored or photo backgrounds in PowerPoint, print ads, etc.
In total you will need 18 files.
Buy the fonts
Ask your designer what font(s) were used and buy them. They should cost $30-$40 each from fonts.com or another font website.  You will want them for brand cohesiveness across all your ads, website, business cards, and other marketing materials.
Lastly, a nice-to-have. Ask for your standard logo in favicon format for your website.
Don't be a jerk
Be sure to discuss all this at the beginning of the project. Delivery of one logo file is the norm, so if you are halfway through a project, don't be a jerk and demand 4 versions and 18 files for free. Instead, ask your designer for a Change Order so you can pay for their extra work.
Mistake 2: Having too many colors in your logo.
See Firefox's lovely logo, with essentially 3 colors.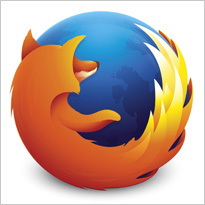 Generally, use 1-3 colors. Avoid 4+ colors unless you are planning world domination like Google, Microsoft, ebay, NBC, or wooden toy blocks, which all use red, green, blue, and yellow.
Be careful how you mix the colors, or this might happen: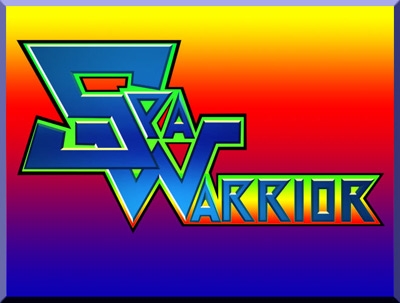 Rad brand name though. Spa Warrior! lol
Rad?
Who even says that. See what I mean? Stupid logos make people do stupid things. Don't be a detriment. Stick with 1-3 colors.
If you really like these fonts, go for it.
Just don't be surprised when designers giggle and muse aloud about what went wrong in your youth.
Also your business might go bankrupt.
Best not to use those fonts.
Mistake 4: Capturing the silhouette of a local landmark.

Disclaimer: I take zero credit for designing the above mountainous logos.
You may think you're being original by capturing that local landmark, but don't do it.
Shady tailors, dirty mom & pop restaurants, plumbers with plumber's cracks, state institutions, heck, even license plates… they're all using that famous silhouette in their logos. And customers are desensitized/blind to it. Remember: say no to plumber's crack. Don't use the local landmark.
For those of you already using the silhouette…
There there. Don't feel bad.
When I freelanced as a logo designer in Colorado, more than half of my clients wanted the Rocky Mountains embodied in the logo. All believed they were the first with the idea.
Mistake 5: Being rational with your brand name.
Want a memorable brand name? Don't be clever. Be irrational.

Ok, yes I'm being hypocritical. BROADSIGHTED is "clever." It conveys openmindedness and far-seeing and blah blah blah. Listen, I created the name 12 years ago when I didn't know better. Broadsighted is synonymous with me so I can't change it.
Plus broadsighted.com used to rank 1 for "Colorado web design" and probably still has SEO authority. (For my marketing savvy readership, I did not use blackhat SEO. If this article gets 50 comments I'll share the link-building strategy I used to get top ranks in SERPs).
Being rational will lead to a cheesy brand name.
Say you're starting a video production company. Let's brainstorm a brand name:  Film… tape… video… media… mogul…
Media Mogul Productions
Awesome!
Right?
Nope. Total shit.
Let's try again, being irrational.
ANSWER QUICK!
SOMETHING JUST WHIZZED BY YOUR HEAD! WHAT WAS IT?
OH, A HOUSEFLY?
HOUSEFLY PRODUCTIONS!
NOT BAD. BIT BORING.
GIVE THE FLY SOME PERSONALITY.
DOES HE HAVE A SPEECH IMPEDIMENT?
IS HE FRIENDS WITH KIM JONG-UN?
DID HE HAVE A BAD DAY AT WORK?
IS HIS BOSS A SOCIOPATH AND HE'S AN ALCOHO—
WHAT'S THAT?
DRUNKENFLY, YOU SAY?
DrunkenFly Productions.
Bam.
Now that's a brand name. Totally irrational. 100% badass.
Below are famous brands. I want you to ignore your predispositions for or against these companies. Choose the sexier, more memorable brand name.
Internet Explorer vs Firefox
Hewlett Packard vs Apple
Jaguar vs Volkswagen (meaning "people's car" in German)
Head & Shoulders vs Dove
Purple vs Sleep Number (mattress brands)

Dove has nothing to do with body wash. Firefox has nothing to do with looking at websites. See what I mean?
Note: when I say "be irrational" it's only a guideline to inspire you, and to prevent you from creating an amateurish brand name. Sometimes authenticity and transparency can benefit a brand name. Like Enterprise Rent-a-Car or Dollar Shave Club.
But I think 9 times out of 10 you're better off choosing a memorable, irrational brand name.
Need more help?
This article is not comprehensive. I have 57+ other tips to make your logo stand out.
Need free feedback on your logo? Contact me or post in the comments below.
My designer readership: share your tips in the comments! Feel free to promote your business if your work is solid.
Cheers.

After 30,000 hours as designer, developer, analyst, optimizer, and leader of in-house and external marketing teams, Ersan is now Marketing Director for a medical device company. For 13 years he has bucked convention and found new ways to drive exponential growth in engagement, traffic, conversions, and ROI.

This blog is for entrepreneurs, corporate marketers, and freelance marketers who are looking for authentic, no-BS advice.